The University of North Carolina at Greensboro
Recognition
The University of North Carolina at Greensboro (UNCG) is accredited by the Southern Association of Colleges and Schools Commission on Colleges (SACSCOC) to award bachelor's, master's, specialist, and doctoral degrees. UNCG is currently preparing for its ten-year reaffirmation of its accreditation.  The reaffirmation process will conclude with an on-site visit by a team of colleagues from institutions similar to UNCG. That team will review UNCG and provide its assessment to SACSCOC. The site visit will occur early in 2014, and SACSCOC will reach a final decision in December 2014.
Information about the specialized accreditations of UNCG's educational programs can be found at http://ire.uncg.edu/pages/factbook/2003-04/PDFs/academicprograms/accreditation0304.PDF.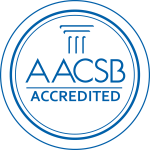 UNCG's Bryan School of Business and Economics is among the top 2.8 percent of business schools worldwide that have achieved accreditation in both business and accounting by AACSB International –The Association to Advance Collegiate Schools of Business.

Additionally, the Bryan School of Business and Economics' evening MBA program has vaulted to No. 13 in the nation in newly released rankings of the best part-time MBA programs by Bloomberg Businessweek (2014).
The Princeton Review has also named the UNCG Bryan School of Business and Economics as one of the top business schools in the country, including the Bryan School in the latest edition of the annual guidebook, "The Best 295 Business Schools," for the 14th consecutive year. Read more about UNCG's achievements here.